PARK IT HERE
ONE FAMILY'S NATIONAL PARK ADVENTURE
After a year of too much time spent indoors and too much time behind screens, our family needed something different, we needed something that made us feel connected and whole. We decided to spend ten weeks exploring one of America's greatest treasures – the National Park System. It was just the medicine we needed! We came back feeling healthy and more able to navigate the twists and turns ahead.


We were not the only family that decided to visit Parks in 2021. Much of America searched for the same medicine that we went looking for and many of the parks reported record breaking attendance this summer. Still we were able to visit each park in a way that felt worthwhile, safe, and cost-effective. I hope that by sharing some of our strategies we can help other individuals and families experience the National Park System in an effective and responsible way as well.

Some of Parks we visited such as Great Basin and Theodore Roosevelt felt like undiscovered treasures, other parks such as Zion and Yellowstone felt like outdoor amusement parks in places. Still, every place we visited we were able to create a remote and solitary experience by hiking early and late, embracing less than perfect weather, and thinking strategically about dates and trailheads.
There were certain parks like Carlsbad Caverns and Big Bend where it paid off to wake up at 5:30 or 6 am to be the first one in the park or on trails. In general, however, our family likes to sleep past 6 am so in popular spots we often opted for evening adventuring. With long summer days, we sometimes didn't start hiking until 6 or 7 at night once the crowds had dissipated and the temps had cooled down.
We also ventured out into less desirable weather on more than one occasion to find we had the park all to ourselves. We hunkered down in a valley to stay out of the cold wind in Great Sand Dunes. Yes, we were decked out in winter clothes, but our kids still had fun playing in the sand and my husband and I both had time to explore the dunes without passing another hiker. In Theodore Roosevelt National Park we headed out with umbrellas in a rain storm and went five miles without seeing another hiker. And while we certainly don't have any desire to family adventure in severe weather, some of our best memories came from exploring in uncomfortable conditions.
Another helpful tactic was to plan our park stops at popular destinations for weekdays and explore less crowded places on the weekends. It didn't always work out perfectly, but when we did land in popular parks on a beautiful Saturday, we skipped the Instagram Influencer trails and headed to the least visited portions of the park. So no, we do not have the iconic family photo at Delicate Arch and we did not wade in Narrows when we were at Zion, but we had amazing experiences at both Zion and Arches and we never had to fight the crowds.
Want to visit the National Park System but don't have the funds to rent an RV or afford the inflated hotel prices near the Park Entrance? If you learn how to camp, you will be able to explore the National Park System for a fraction of the cost.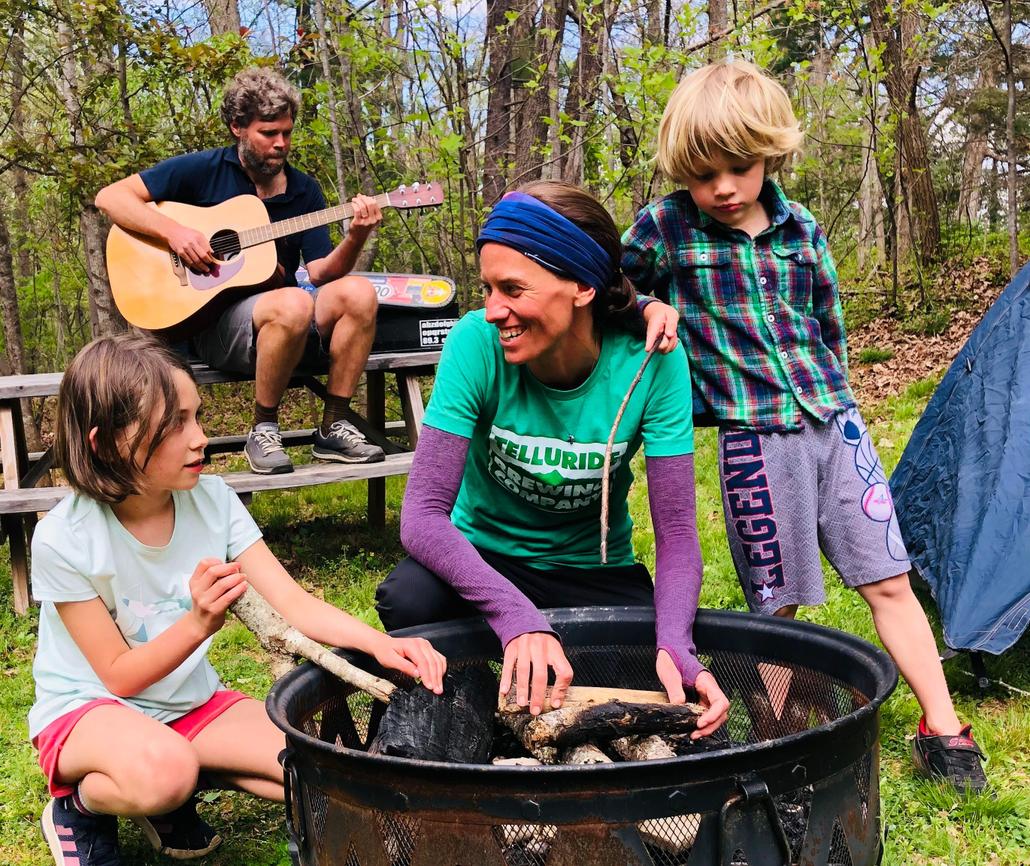 Our family was able to spend ten weeks exploring National Parks for the same amount of money that most people would spend on a two-week vacation. The catch is that we camped almost every night. Were we filthy and smelly? Hmm… depends on your definitions, we usually took advantage of the "quarter showers" (as our kids like to call them) at the developed campgrounds before searching for free or low-cost options campsites nearby.
More often than not we would spend the day inside the National Park and at night we would head to nearby National Forest or BLM land where we could camp for free. There were also times when we booked $10 - $20 campsites through the National Parks, National Forests, or a private campsite reservation platform called "hipcamp."
Another effect cost saving tool was packing most of our food for the trip before we left home. We had a large storage container in the back of our car filled with dehydrated dinners, black beans, boxes of mac and cheese, instant potatoes, lots of oatmeal and many other nonperishable items. Pre-packing these staples helped prevent us from buying the same items for three times as much in tourist towns. We supplemented with produce and dairy and cold beverages that were kept in a cooler in our car. Stocking up before we left home also gave us the flexibility to splurge for a few more food treats – such as the fresh baked pies and homemade ice cream in Capitol Reef National Park. Mmmm!!

PLANNING LOGISTICS AND PARK REGULATIONS
Many people who want to stay in the campgrounds at Glacier or spend the night in a lodge in Grand Tetons will plan their National Parks trip 6-12 months in advance. We planned our trip a few weeks in advance and our itinerary stayed fluid and flexible throughout the trip.
Some of the parks we visited such as Glacier and Rocky Mountain implemented reservation systems that only allowed park guests who were lucky enough to buy a timed pass to enjoy access to certain parts of the park. We never had a timed reservation entry and yet we were able to enter every park the day we arrived.
At a time when the pandemic is still a reality and new variants are hogging headline news, we were able to visit National Parks in a way that allowed for safe social distancing and minimal interaction or contact with other visitors.
HOW?
BACKCOUNTRY CAMPING.
Really the key to our trip was being willing to strap on a backpack throw in the sleeping bags and a tent and then hike a few miles out to find a campsite. Even at the most crowded parks, we were always able to make backcountry campsite reservations the day that we arrived. Our backcountry permit then served as a golden ticket to bypass the timed entry regulations. We never had to hike more than 3 miles from the road to our campsite and when we arrived, we were always the only campers within sight.
If you have the ability to book backcountry sites in advance it will make the experience simpler, but if you're up for adventure and have the necessary skills and gear you can almost always find solitude inside of America's National Parks with a back on your back.
In total we visited 22 of the 63 National Parks this year. And there isn't one that we would recommend skipping – even with the highest visitation numbers on record and with a 4 and 8-year-old in tow – every park was wonderful and worthwhile. Before the start of Covid, I knew that our park system was beautiful and an important form of conservation, but I didn't realize how effectively America's National Parks could be used to help bolster mental and emotional health until we experienced it. These parks helped our family feel healthy, move forward, and become more resilient. I hope sharing our experience and these tips will encourage you to plan your own National Park Adventure!