AT FARM TO FEET WE TAKE PRIDE IN THE QUALITY OF OUR SOCKS.
They touch a minimum of 10 different hardworking employees' hands during different stages of production before making their way into your sock drawer. We take care to ensure they meet our rigorous quality standards, which include over 30 different types of defects that our trained eyes meticulously look for. 
Most of our socks are made with merino wool for comfort and cushion, nylon to give it structure and reinforce high impact zones like the heel, and spandex to supply the fit and stretch you want in a performance sock. Each material plays its own role in helping create a long-lasting product. 
Nylon-covered spandex adds extra reinforcement.

Plaiting yarns, what gives the sock structure, are covered with 2 plies of nylon.

The twist of our merino wool is optimized for durability and comfort.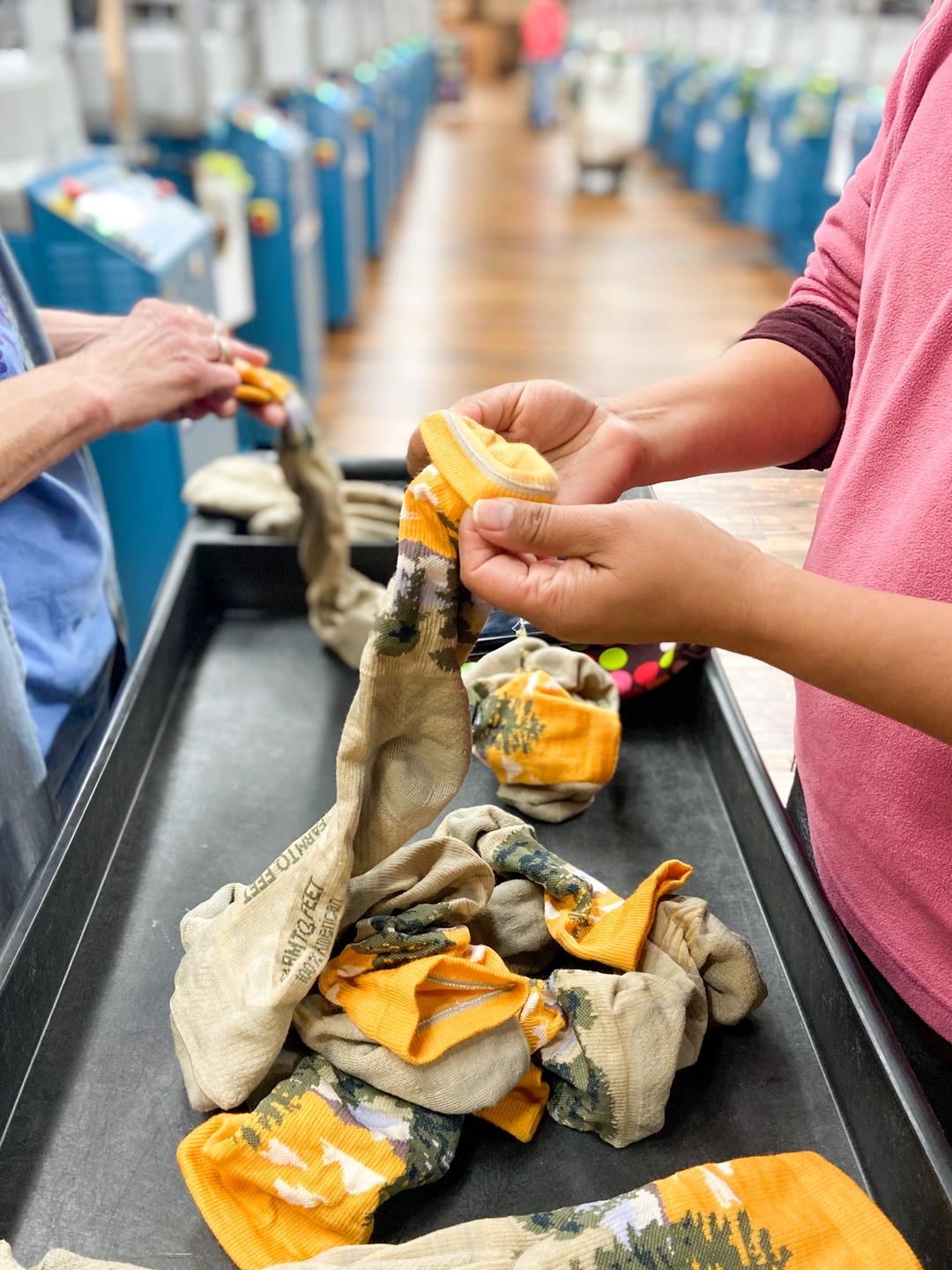 LEARN ABOUT THE DURABILITY OF FARM TO FEET SOCKS
CARE
Did you know that you can wear our merino wool socks
for DAYS without needing to wash them?
That's why wool has been the fiber of choice for thru-hikers, endurance athletes and dirtbags alike. Merino Wool's porous fiber structure makes it naturally odor-resistant, wicking, and thermoregulating — it will keep you comfortable and dry even in some of the roughest conditions.
We recommend hanging your socks out to dry on multi-day excursions, and when you do finally want to wash them, follow the instructions below to keep them in prime condition for seasons to come: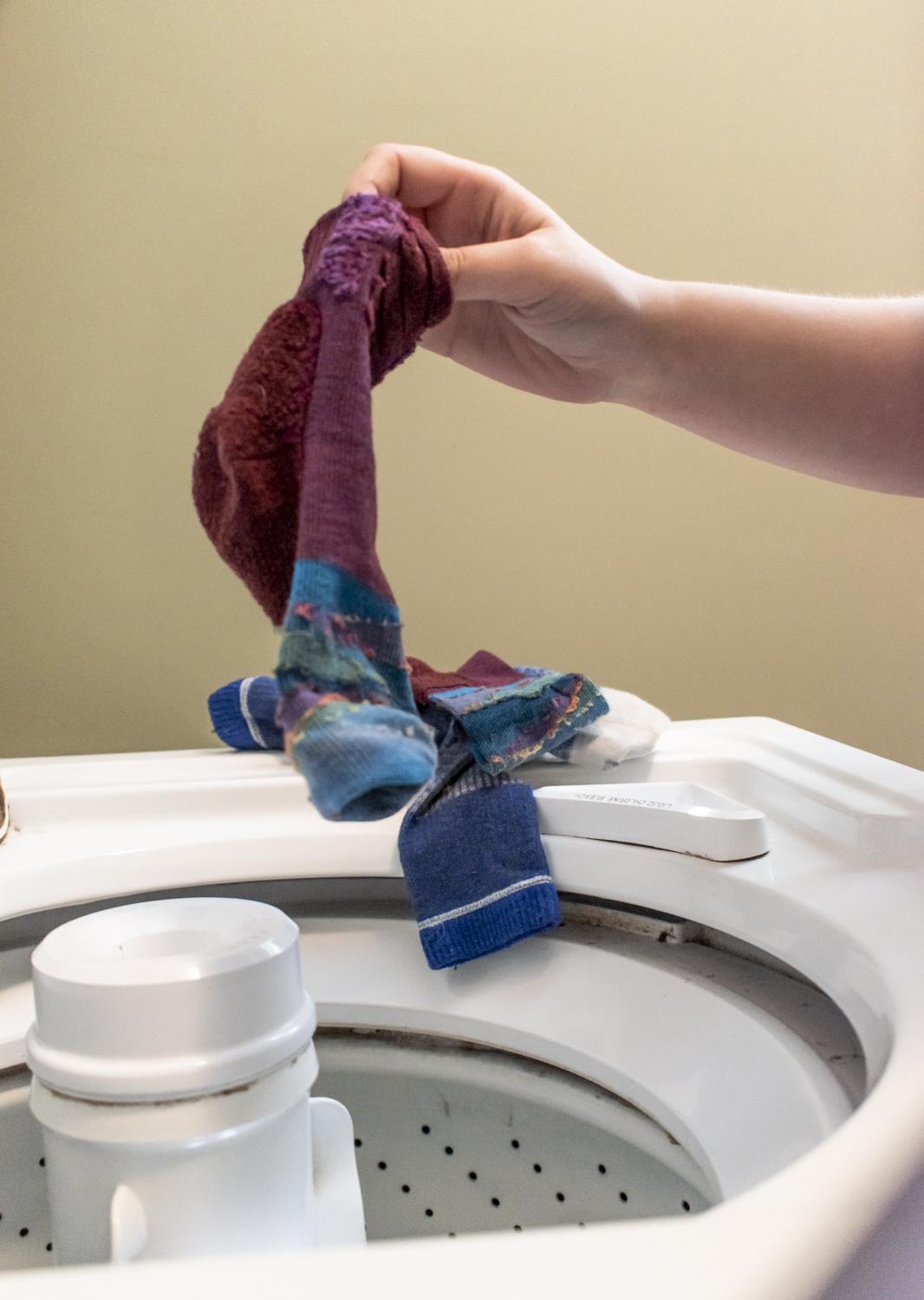 Turn your socks inside out before washing. This helps prevent agitation and friction with other garments.

Machine wash in cold water with detergent. Pro Tip: cold water saves energy!

Do not use bleach or fabric softener. These can break down the fibers and prevent them from doing their intended job.

Air dry by hanging or lying flat. This helps reduce the environmental impact and prevents shrinkage.
After miles and miles on the trail, countless runs on the slopes and all the shuffling between the home office and kitchen you've done in 2020, the wool in your socks may eventually break down — it is a natural fiber after all — but here's where you come in to combat the disposable clothing culture. Instead of throwing worn-out socks away for a minor hole, we think the Japanese got it right with the tradition of "Shashiko", a form of mending and repairing clothes in a way that ages garments beautifully.
Our Director of Sustainability has compiled the following resources to help you get started:
OUR SATISFACTION GUARANTEE: If you are not completely satisfied with the durability or performance of your Farm to Feet® socks, then please return them and request either: 
A replacement pair — or — 

A refund with proof of purchase from an authorized retailer 
All returned socks are recycled through our partnership with Martex Fibers.

Along with other materials our socks are ground down and turned into carpet backing, cushion filling and other industrial textiles. Only about 15% of clothing waste gets recycled in the U.S. Don't be trashy. Skip the landfill and send us your socks instead.