TREEHUGGER | Made Entirely in the U.S.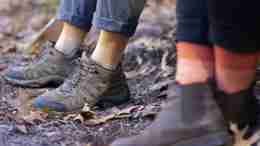 Farm to Feet was launched in 2013 by Nester Hosiery, a larger parent company that produces socks for a number of brands, including Woolrich, Rocky, Georgia Boot, and Durango. Nester Hosiery has been aggressive in improving its sustainability practices, being the first U.S. manufacturer to join the Bluesign certification and the first to submit a facility self-assessment to the Sustainable Apparel Coalition's Higg Index in 2012.
A media rep told TreeHugger that, over the past five years, Nester has "reduced their water and energy usage through the implementation of steam tumblers (reduced washing and drying steps, time, water, and energy), dumpster dive initiatives, and a proprietary software they built from the bottom up to track their materials, processes, manufacturing, and shipping."
In other words, this is a company that's really trying to make a difference by reducing its environmental impact.